On April 26, 1996, President of Ukraine issued the Decree on establishing the Chornobyl Center as a scientific and research institution subordinated to the Cabinet of Ministers of Ukraine.
The Chornobyl Center started its operation in the area of studying the consequences of the Chornobyl accident, nuclear and radiation safety, nuclear facilities decommissioning. The Center's office was located in Kyiv.
In 1997 the Slavutych Laboratory of International Research and Technology (SLIRT) was established as a Chornobyl Center's division in the town of Slavutych by the joint decision of the Chornobyl Center, ChNPP administration, Slavutych City Council, representatives of the U.S. Department of Energy (DOE) and Pacific Northwest National Laboratory (PNNL).
The activities on creation, formation, and development of the Laboratory were actively supported by the PNNL and DOE, USA.
In July 1998, Ukraine and USA signed an agreement on establishing the International Radioecology Laboratory (IRL) .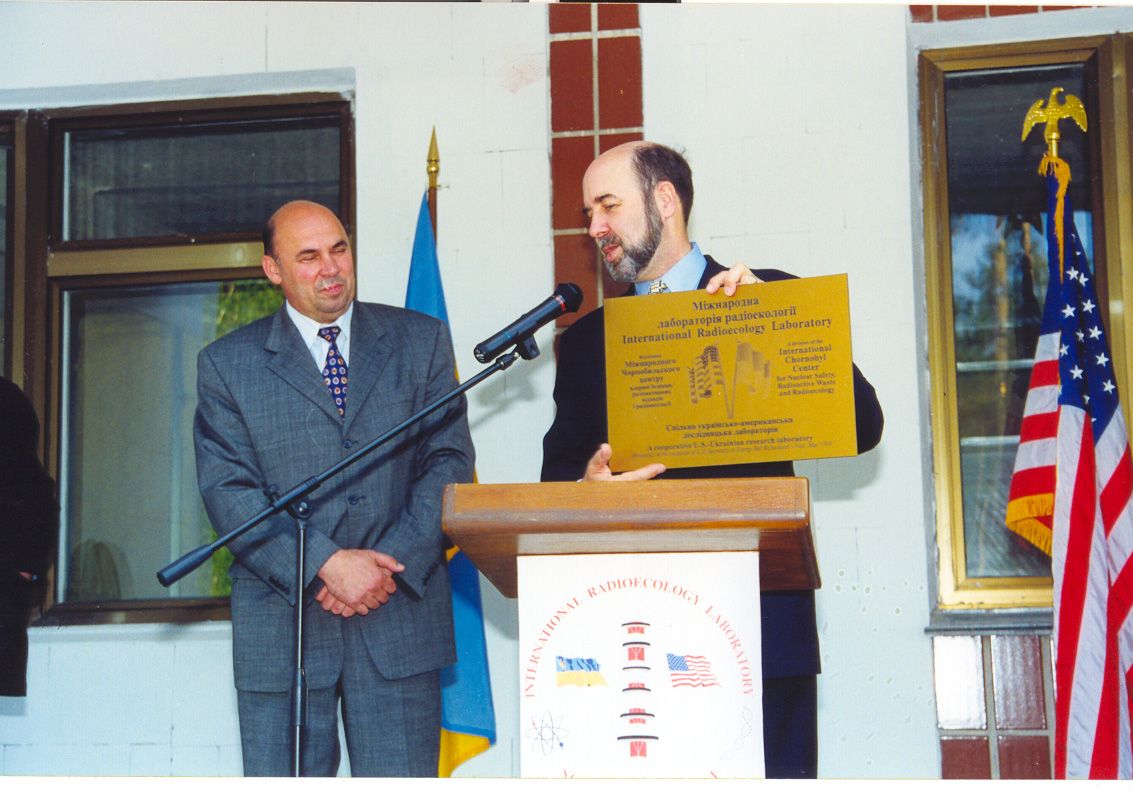 Since the IRL started its operation, the Chornobyl Center expanded its area of expertise and started rendering services in the area of radioecology and radiobiology, conducting research with its Ukrainian and foreign colleagues within the Chornobyl Exclusion Zone.
In February 2002, 2 years after the Chornobyl NPP closure, the headquarters of the Chornobyl Center was transferred from Kyiv to Slavutych. Almost all teams that manage a number of international projects work in Slavutych; particularly, the teams fulfilling the works within the framework of the projects for the ChNPP decommissioning, radioactive waste management, the Shelter Object transformation.
In accordance with the Ukrainian Cabinet of Ministers Resolution No. 1291 dated October 31, 2007, the Chornobyl Center was transferred under the control of the Ukrainian Ministry of Emergencies and Protection of Population from the Consequences of Chornobyl Accident.
A new Charter of our organization was enforced by Order No. 624 that was issued by the Minister of for Emergencies on August 29, 2008. The Charter defines the organization's name as "State Scientific and Research Institution "Chornobyl Center for Nuclear Safety, Radioactive Waste and Radioecology".
By order of the Cabinet of Ministers of Ukraine from September 14, 2011 # 878 scientific and research institution "Chornobyl Center for Nuclear Safety, Radioactive Waste and Radioecology" was transferred to the State Agency for managing the Exclusion zone of the Ministry of Ecology and Natural Resources of Ukraine.